At Key Programming San Antonio TX, our mission is to provide you with professional and efficient fast lock and key service. We are a 24 Hour locksmith company who is mobile, which means we come to you for your convenience. Our lock experts are fully trained and provided with all the highest quality gadgets, tools and skills to help you with any key programming or lock needs you may have. We are trained to work on all of your automobile, residential, and commercial locks in the most affordable manner. Call our mobile locksmith company today before you try and fix the problem yourself causing any risk of more damage.
THE LOCK AND KEY SERVICES
When you share a car with anyone other than yourself, you may need a new car key or spare key to ensure you have a safety backup plan if anything were to happen to your first. Key Programming San Antonio TX experienced lock geeks can provide you with a new key cutting or spare car key made in no time at all right where you are. If you are worried about not having the first pair because of having lost your car keys or anything, that's not a problem for our techs. You don't need anything, we can look up the vin number and make a new car key from it, and also can re-key all your car locks. Just as our name states, our specialty is key programming and we have the best quality and most professional techniques in the industry today to make sure the chip is properly placed inside your key and immediately read by your vehicle.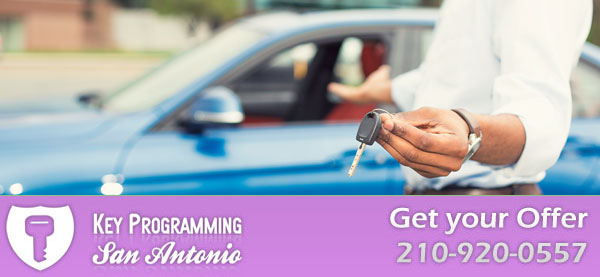 We program all of your transponder keys, chip keys, smart keys, and remotes and provide you with an additional key with your transponders to open up all of your car doors free of charge. If your key is stuck or broke inside of your locks, you need a key removal/extraction and a new key maker locksmith to help you in no time. Locked out of your vehicle? That is a very common need and so easy for Key Programming San Antonio TX techs to come and unlock your doors in minutes. Not only do we work on your auto lock and key concerns but also any residential, commercial, retail, shopping center and warehouse as well from home/business lockouts, broken key removal/extractions, re-keying, making new keys, master lock key replacements, even keyless entries and more.
OUR AFFORDABLE LOCK AND KEY PRICINGS
When you need any lock or key service in San Antonio we are always excited to be providing you with extremely low and affordable lock rates for any mobile service you need. Key Programming San Antonio TX prices will surely fit any budget. When you give our mobile lock service a call, they will quote you on any service you need which will be the only price or charge you will be paying. We want to make everything easy for you from the time you call us for help to the time we leave. We won't leave until you are fully satisfied with your lock service and see all your money's best worth as well as making sure you are in the safest conditions.
San Antonio, TX, wait no longer when you need any new keys programmed or experience any lock or key auto, residential, and commercial issues. We are always available to assist you in the most professional and affordable manner. We take pride in being open 24 Hours every single day, no matter what time or day it is, prepared to help you back to your lives. Call us now for any additional information or questions you have about any service we provide. If you need a specific date and time for your home or office locks, you can also set up an appointment on the phone with our dedicated team for a more convenient time. We want to be sure and leave a memorable experience every time.